TRIBOLOGIA - Finnish Journal of Tribology
TRIBOLOGIA - Finnish Journal of Tribology is an open access journal published by The Finnish Society for Tribology. It contains of articles written in English, Swedish and Finnish. The journal is published four times a year.
The editorial board:
Editor-in-Chief D.Sc. Vuokko Marjamaa
Editor D.Sc. Kati Valtonen
Editorial assistant D.Sc. Janne Juoksukangas
The scope of the journal is to publish new interesting results of tribology and tribology related research (experimental and modelling). It has the Finnish editorial board and the Nordic advisory board.

Benefits to Authors:

No publication fees
Authors remain as copyright owners
Peer reviewed publishing process
Prompt publishing
Free print for the corresponding author
Reading of articles and online submission system, see the web pages of the journal
Other journal related issues, please contact the Editor-in-Chief, see
Contact
The flyer of the journal in the pdf-form: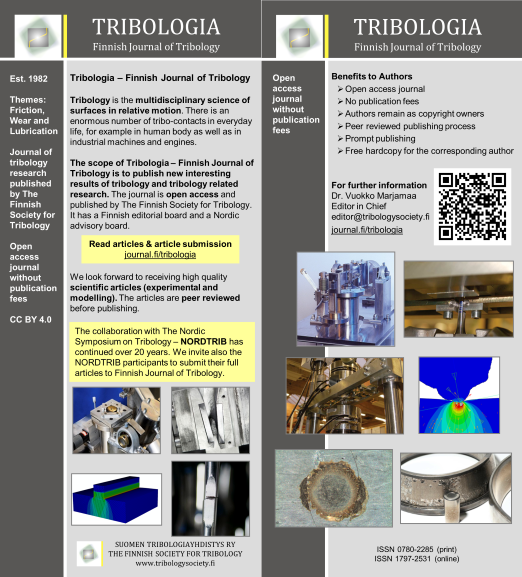 Acknowledgements
The journal has received funding from The Federation of Finnish Learned Societies, Finnish Association for Scholarly Publishing and Kopiosto.